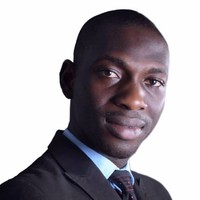 Adedoyin Adeleke is a sustainable energy researcher, currently pursuing a doctoral degree within the UNESCO Chair in Energy for Sustainable Development at the Department of Energy, Politecnico di Milano, Milan, Italy and the Founder-cum- Executive Director of the International Support Network for African Development (ISNAD-Africa). He holds a bachelor's degree in Mechanical Engineering from Obafemi Awolowo University, Ile-Ife, and a multidisciplinary master's degree in Energy Studies from University of Ibadan, Nigeria. Through his doctoral research, Adedoyin seeks to develop a framework for impact evaluation of energy access on rural livelihood.
Adedoyin is in the 2018 40 Under 40 list of Changemakers in the global solar energy industry (Renewable Energy World, USA) and also the first African to be named in 30 Under 30 list of Changemakers in Environmental Education (North America Association for Environmental Education, USA). He is among the Top 100 Shakers and Movers in e-learning in Africa as rated by Bob Little Press and Public Relations, United Kingdom. He is a recipient of various scholarships, grants and fellowships from diverse institutions and organisations across the globe.
Funded by a fellowship from the German government, Adedoyin was one of the 21 young sustainable energy professionals selected from across the globe to participate in the 69th UNEP/UNESCO/BMUB International Short Course on Renewable Energy and Energy Efficiency in 2016 at Technische Universität Dresden, Germany. He served as Country Contributors to Global Status Reports (2017 and 2018 editions) on renewable energy published by Renewable Energy Policy Network for the 21st Century (REN21) and UNEP's 2017 1 Gigaton Report which tracked contributions of renewable energy and energy efficiency programmes in developing countries to reducing greenhouse gas emissions, among other contributions to causes for green growth and education development globally.
He says 'Africa is too rich to be poor, I choose to Act'